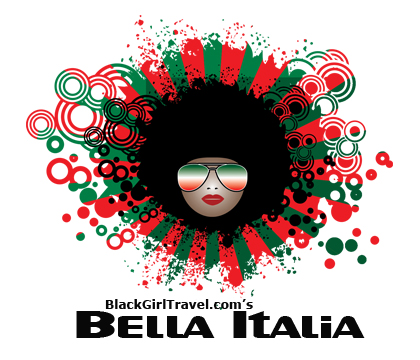 FOR IMMEDIATE RELEASE
Contact: Nicole Peace
323.252.1779
Press@BlackGirlTravel.com
BlackGirlTravel.com and Bella Italia Announces Three
New Strategic Alliances to Enhance the Spirit of Sisterhood.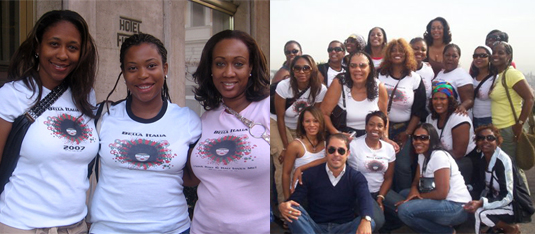 LOS ANGELES (March 12, 2009) -- BlackGirlTravel.com, founded by visionary Fleace Weaver, is a hot new travel club for fun loving women of color. The website is a one-stop resource for travel related information specifically targeted to Black women. Along with custom tours, the website features sections such as: Hair Scare, a resource for finding hair salons experienced with black hair anywhere in the world, Black Like Me, which connects people to local black owned websites in places such as Paris and London that can give the 411 on the urban culture in their cities, and In the Click the community section where visitors can meet and share information with other Black Girl Travelers. "We wanted to create a site not just for African-American women but where Black female travelers around the globe could connect" says Weaver. With that goal in mind, BlackGirlTravel.com is proud to announce three new strategic alliances for Bella Italia, its annual whirlwind signature tour of Italy.


Adrianne George
BlackWomeninEurope.com owned by Adrianne George in Sweden is a fun social network connecting over 500 Black women living in counties such as in Russia, Poland, the Czech Republic, Slovenia, Norway, France, and Germany. Black Women in Europe addresses the hot topics of travel, dating, business and beauty.


Kubi Springer
SisterhoodTV.com owned by Kubi Springer in London is a website for women (and men!) to be inspired, informed and connected while networking globally. The Sisterhood TV Show, the first of its kind in the UK, is broadcast to over 100,000 viewers per month across 35 countries worldwide. Dedicated to the "Aspiring Woman who is Bold, Beautiful and handling her Business", Sisterhood TV is aired on Sky Channel 194 and repeated online on www.sisterhoodtv.com. Fleace Weaver will be featured live on the show this Sunday, March 15th, at 7am PST. To listen or join in the chat with Fleace and Kubi log-on to www.playvybz.com.



Andrea Adams
Andrea Adams co-founder of Travelista.tv is a bonafide Travel Girl! Andrea's work and travel assignments have taken her to more than 30 countries around the world. She has lived in Italy, Spain, and France, and her fascination for global art, style, and culture comes through whether she is cooking with chefs, dancing flamenco, touring le Louvre, or celebrating the running of the bulls festival in Pamplona. Currently living in Florence, Italy with her very handsome Italian boyfriend, Andrea is the official tour guide for Bella Italia 2009.


Fleace Weaver
"I am so excited about the alliance with BlackWomenInEurope.com, SisterhoodTV.com and Andrea Adams of Travelista.tv. "These relationships will enhance the exposure of all our companies on a global level. To not only have Black women from the US join us in Italy, but to have wonderful women from around the world join our traveling sisterhood will be a dream come true" Says Fleace Weaver. One Bella who will be joining the tour from Riyadh, Saudi Arabia, cancelled her birthday plans to Bali after learning about Bella Italia on BlackWomenInEurope.com and hearing about the big Birthday party in Rome for all the Birthday girls.
In addition to the above strategic partnerships, Weaver worked closely with the Italian Government Tourist Board in Los Angeles to create unparalleled experiences for this year's tour. The tour features cultural activities, parties, dining, shopping, city tours, and a few surprises.

Bella Italia's 2009 scheduled stops are as follows:
September 2nd - Depart for Italy
September 3rd - Arrive in Rome (3 days)
September 6th - Pompeii/Naples/Sorrento
September 7th - Naples/Capri
September 8th - Sicily (3 days)
September 11th - Depart Italy

For more information on the Bella Italia 2009 tour, pricing and booking, please visit www.blackgirltravel.com/italy or call 323.252.1779. To view pictures, video, and stories from previous tours visit www.blackgirltravel.com/pages/gallery.html

About BlackGirlTravel.com
BlackGirlTravel.com is a travel club created by and for extraordinary Black women. The goal is simple... to expose Black women to the beauty of the world and the world to the beauty of Black women. BlackGirlTravel.com creates unique customized tours and meeting programs for groups and individuals, designed for young at heart, well-heeled urbanites interested in exploring new lands while indulging in international cuisines, retail therapy, and exciting nightlife. There are no cookie cutter itineraries -- each tour is custom designed for the group and its objectives. So, whether you are the seasoned traveler looking for something different or a newbie seeking the security of a group, BlackGirlTravel.com has a tour for you! These are not your grandmother's tours!


# # #