On my last day in Italy I got a chance to visit Firenze (Florence),Italy! Florence looks very similar to Rome only difference is it is a bit smaller and more quaint. Today in Firenze I did what I do in Roma basically tour, see sites, walk, and eat. Today I got a chance to have lunch with one of BETS's Travelistas;  Andrea Adams.  Also Miss Stephanie joined. We had a Black girls in Italy day! lol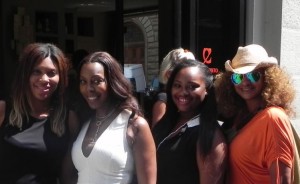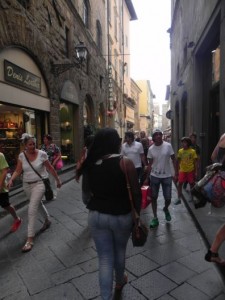 Michelangelo's David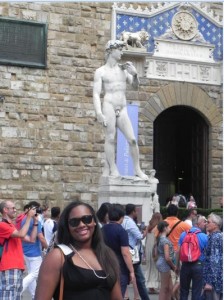 This statue of David is actually a replicate of the original one. It is placed in Piazza della Signoria. The original one is in Accademia Galleria in Florence.
The Basilica di Santa Maria del Fiore.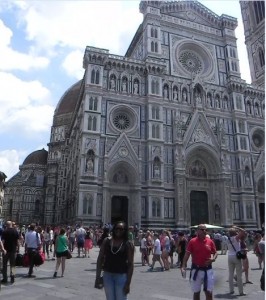 The church in the back is one of Italy's largest. And also is the main church for Florence,Italy. It is known as the Duomo di Firenze.
The Arno River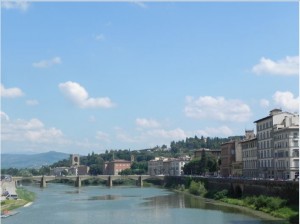 The Arno River is the most important river of central Italy after the Tiber. The view is from Ponte Vecchio which is the oldest bridge in Florence.
Gold Jewlers on the bridge
Florence was very nice to see, another moment that will forever be engraved in my memory. I feel like that was a good place to end my just beginning journey.
As I am writing this so many thoughts are going through my head. I keep thinking about these next flights I will be getting on. Also thinking about seeing my family and friends. Lastly just thinking about how this trip will effect my future! I am so grateful that I got this opportunity and I couldn't be anything but thankful for Fleace for giving me the opportunity to do this. So I just want to say THANK YOU SO SO MUCH Fleace you have taught me a lot and I know I will continue to grow and conquer the world with my exploration to come!