Day 3
So it's day three in Italy. today i did several things, in the morning we walked to a little coffee shop around the street and I had some pastries and a cappuccino! Yes I'm drinking coffee lol after breakfast we headed back to the house to get ready for our day. But as we were in the house preparing someone knocks on the door and it's this man and he tells us to not use the water. "WHAATTT?? WHY NOT" is what I said. And Fleace just says with a smile on her face and laughing "welcome to Italy…..and hey I got some wipes!" So you can guess how the rest of our morning went lol. After the no water fiasco we headed out on our way to have lunch with miss Stepaine, Miss Fleace's friend. They're so funny, them too together reminded me of my friends and I when were around each other.
I know they say don't knock stuff until you try it, well I tried it and I knocked it! Today I decided to try the gnocchi noodles with white cheese sauce  and it happened to be first thing of food I did not eat all of in Italy. Now don't get me wrong it's not that it tasted bad it's just I got really full quickly and it was just too much cheese, and the noddle was a little too mushy for me. Plus I had just recently ate breakfast like a couple of hours earlier. So since I hadn't eaten barely anything the owner, Amandeo gave it to me for free, Fleace said that was very unusual for Italy but they were her friends and liked me. Only  paid for was my  drinks #blessed! And while I was there I met the the workers some really nice, caring, and cute old Italian men!
The  Owner Amadeo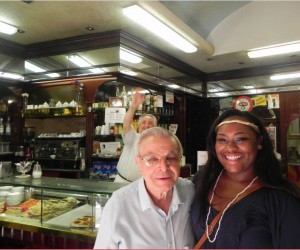 Next stop…Metro (subway)
So after our lunch date we headed out onto our next adventure which was riding the subway! I know that may not be a big deal to some people but to me it was going to be a very interesting and fun adventure for me. I do not recall riding the subway in years. I figured when I was younger living in New York I probably rode plenty of trains with my mother, but I don't remember.  So, for, me  I have not rode one yet…… Well now I can say I have. The subway was a cool experience it went pretty fast and was very very crowded with people.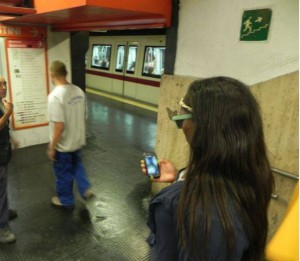 Touring
Normally in Italy  everyone mostly walks everywhere, so that is what Fleace and I were doing walking  for the most part.  When in Rome, do as the Romans do!   Today she decided we would have  a chill day and sit down for a little, so we got on a open top tour bus. The tour bus took us all around different parts of Rome and told interesting things about each monumental building. We of course seen The Vatican, and The Colosseum these two monuments are places in which are very important and historical to the Italian culture.
Isola Tiberina (The Island of Tiber)
After the touring was over we did a little shopping then headed home. We stayed in for about maybe an hour and a half till we headed out again.  We went out to dinner on Isola Tiberina which is a island in he middle of the Tiber river.  The island has different hang out spots, little shops, and eateries. We ate at a place called "Giuda Ballerino" just a few feet from the river.  We ate burgers and fries with homemade bread and even homemade ketchup and mayonnaise for dipping sauces. Isola Tiberina has very beautiful scenery at night. After dinner we did a little walking around to some of  the little shops. And again I had another great day/night in Roma!
Day 4
So my day four was very very chill. I basically slept in all day except for when we had to go get lunch because if you don't eat by two thirty all the stores close until six in the evening, because of a thing called "pause" pause is when the owners and everybody who is working in the store stop what they may be doing and they go and spend time with there families either eating,talking, or whatever they feel like doing basically lol. For lunch we had pizza and to be honest it wasn't the best. But I just take those moments as experiences. After lunch we headed back home and stayed in and went back to sleep.
After that nap we woke back up to go get some groceries. I learned then Italians pack there own groceries there's nobody at the end to do it for you

So I packed the bags and unfortunately for me, I packed one much heavier than the other, and Fleace realized what I did and told me to carry the heavy bag lol I was a bit upset about that but whatever life goes on lol!
 Day 5

My next day was quite fun. We went to Villa Borghese, which happens to have a park in it. While in the park I tried segging. A segway is two wheeled self-balancing personal vehicle. While on it I was a bit scared because I felt like I was going to fall off. Then I realized that the machine is not going to do anything you don't want to, simply because you're in control of it. So I didn't stay on it too long and decided to do what I was more comfortable with which was bicycle riding.
The View from Villa Borghese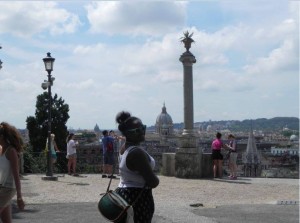 Bike riding was so exciting! I actually happen to love riding bikes. We went riding in a through Villa Borghese, I love feeling the wind in my hair and just feeling liking I'm flying. I gave riding my all and still learned about few things while doing so. The park was so pretty and the views were amazing!
Biking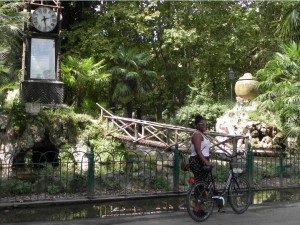 After all that bike riding we worked up quite an appetite so after doing a little shopping we headed out to get some pizza. Let me tell you that pizza was the BOMB! Yes it tasted so good and you can tell it right out the oven and all in ingredients were fresh. The cheese just melted and dripped off the crust and the vegetables were amazing. I ate a white cheese pizza with arugula salad, baby tomatoes, and black olives. It was fantastic!
Later on the night I went out with Fleace and her friend Stephanie . We did some walking around the city and stopped at a friend of theirs house. I was a little bored but we did not stay long.  After we walk so I could see more of Rome at night. The night life in Rome is exciting and the lights are so pretty.  You get to see all the people come out. We then headed out to eat at The Hard Rock Cafe. yes I know it's American but you'll have some part of America anywhere you go. I ordered some wings and a water and I was good to go from there lol. Those wings were sooooo good, the buffalo sauce was amazing and the ranch was too!  We arrived home at 2:30 in the morning. It was a night was good and I slept like a baby.